The Global Review Panel (GRP) for ADI Accreditation is made up of  experts from around the world who are dedicated to advancing the field of dementia care.
Amalia Fonk-Utomo, ADI Head of Accreditation, (The Netherlands)
Amalia has background in creative marketing. After working for the global agencies Lowe, DDB and Ogilvy, she started her own agency, Juara, which lead her to do pro-bono project with Alzheimer's Indonesia (ALZI) by creating the campaign 'Jangan Maklum Dengan Pikun' (Do not under estimate memory loss). She also created a '10 signs' handy accordion brochure which has been translated into over 15 languages.
Since moving to Groningen, The Netherlands, she is active as Honorary Board for Alzheimer's Indonesia and Chair for Alzheimer Indonesia Nederland. With her 26 years expertise in creative marketing, she manages to deliver simple message on behaviour change in dementia awareness
Mary Flynn, Accreditation Advisor (UK)
As the Deputy Registrar for Academic Quality at Bayes Business School, City, University of London, Mary Flynn plays a crucial role in ensuring the academic quality of all degree programmes. Working closely with international accrediting bodies, including AACSB, EQUIS and AMBA, Mary helps maintain the School's gold star/triple crown accreditation.
With responsibilities such as annual monitoring, review of teaching and research programmes, and student experience, Mary brings her expertise to senior academic and professional staff.
She holds a BA and PgDip in Education from Maynooth College, National University of Ireland, and an MA in Higher and Professional Education from University College London.
DY Suharya, ADI Asia Pacific Regional Director (Indonesia)
As the founder of Alzheimer's Indonesia and Regional Director of ADI's Asia Pacific Region, DY is dedicated to improving the quality of life for people with dementia and their caregivers in Indonesia.
With a background in public health, communication and public-private partnerships, she has worked as a Health Communication Consultant with the World Bank, WHO and UNICEF. DY holds a Master of Public Health from Curtin University Perth, Australia, a Bachelor of Arts in Journalism from Ohio State University, USA and a Diploma in English Literature from the University of Indonesia.
Since 2016, she has been instrumental in capacity building through the Dementia Care Skills Training of Trainers programme, empowering trainers and healthcare workers across 15 countries in the region.
David Troxel, Writer and Dementia Care Consultant, Best Friends Approach (USA)
David is known for his writing and teaching in the fields of Alzheimer's disease and long-term care. Alongside Virginia Bell, he has co-authored six influential books, including The Best Friends Approach to Dementia Care, and is currently working on a forthcoming book on staff development and culture change.
David's areas of expertise include best care practices for persons living with dementia, caregiver support, staff training and long-term care programme development. Having been a family carer to his mother Dorothy, who passed away from Alzheimer's disease in 2008, David understands the challenges faced by those affected by Alzheimer's.
Michal Herz, Voice of Customer Director, Assured Allies & Aging and Dementia Consultant (Israel)
With over 20 years of experience working with people living with dementia, Michal is the Director of Wellness Program at Assured Allies and Senior's Market product manager for Eyeclick, Israel.
Throughout her career, she has held positions at the Alzheimer Society of Israel, University of Worcester, UK, and WHO, working on developing training and services inspired by ADI conferences. Michal holds a BA & MSc in Psychology, a PgCert in [sychodynamic approaches to later life, a PhD in Dementia Studies and a PgCert in teaching in higher education settings.
Her expertise covers a wide range of dementia care topics and she is committed to translating her knowledge into practical applications that improve the lives of those affected by dementia.
Emily Ong, Consumer/Patient Advocate, ADI Board Member, DAI Member (Singapore)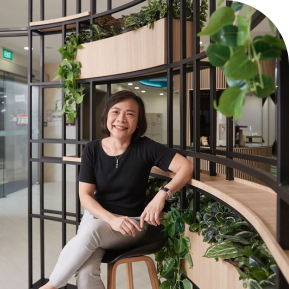 Emily is a former preschool teacher and Special Educational Needs (SEN) learning consultant. After being diagnosed with mild cognitive impairment and Young onset dementia (YOD) at the age of 50, she has become a passionate advocate for dementia awareness.
She founded the Facebook Page 'Living with mild cognitive impairment and YOD' and co-facilitates Dementia Singapore's 'Voices for Hope' programme. Emily initiated the 'La Kopi' support group during the Covid lockdown in 2021, which continues to provide social support for her peers. Collaborating with various national dementia organisations, Emily is involved in numerous projects, such as DAI Environmental Design SiG, Voices of Asia Pacific, Singapore Employment SiG, in addition to co-hosting a bi-monthly dementia podcast.
Professor Emeritus Dawn Brooker, PhD MBE (UK)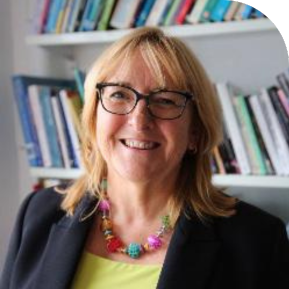 Internationally recognised for her contributions to person-centered dementia care, Dawn has extensive experience in applied practice research and evaluation of complex interventions across health, social care and third sector service delivery.
As the founding Director of the Association for Dementia Studies at the University of Worcester, she has been instrumental in developing and delivering curricula across a wide range of dementia care topics. In 2019, she edited an updated edition of Tom Kitwood's seminal work on person-centered dementia care.
She was awarded an MBE for services to those affected by dementia in the Queen's New Year's Honours in 2021.
Dr Sharon Andrews, Associate Professor and Associate Head Research at the School of Nursing, College of Health and Medicine (Australia)
Sharon is a Senior Lecturer in Nursing at the College of Health and Medicine, University of Tasmania, with extensive clinical experience in aged and dementia care.
Her research areas include dementia and palliative care, pain management for people with dementia and participatory research approaches. She has conducted dementia education across aged and health care sectors, written dementia and aged care curricula and supervised international and domestic PhD candidates.
Sharon is also a former National Health and Medical Research Council, Translating Research into Practice (TRIP) Fellow and has developed expertise in the use of behaviour change theory and intervention design
She actively collaborates with Alzheimer's Indonesia and the Dementia Care Foundation Bangladesh to support capacity building initiatives.
Cathy Krewer, RN, MS, LNHA (USA)
As Director of Nursing at Moorings Park in Naples and former Vice President of Clinical Professional Development for Christian Horizons, Cathy Krewer brings extensive experience in long-term care settings, particularly within memory care neighbourhoods.
A certified Master Trainer for the Best Friends Approach™, Cathy works closely with direct care staff to promote and implement resident-centric nursing care and engagement. She is committed to enhancing the lives of individuals affected by dementia and currently resides in Naples, Florida, with her husband, Paul.
Bill Yeates, Education Professional, Dementia Advocate, and Master Competitor (Australia)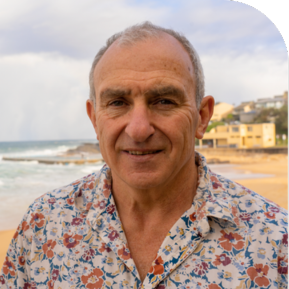 After earning his degree in Pharmacy, Bill dedicated over 35 years to education as a school administrator and a senior Physics and Chemistry teacher. In August 2019, at 59, he was diagnosed with Younger onset Alzheimer's disease.
Since his diagnosis, he has been committed to learning about the disease and sharing his journey through a website aimed at assisting others living with dementia. An avid swimmer, Bill competes in Master's Swimming, Pool Rescue, and Surf Lifesaving Championships, while also volunteering as a surf lifesaver. He currently serves as a member of Dementia Australia's Advocate Program, the Vice Chair of Dementia Alliance International (DAI) and is a part of the WHO's GDO KE Focus Group. Recently, he has started speaking at national and international conferences to raise awareness about dementia, with a particular focus on post-diagnostic care, support and the development of reablement plans.
Helga Rohra, Dementia Campaigner and Author (Germany)
Previously a medical translator, Helga Rohra was diagnosed with Lewy body dementia (LBD) 14 years ago. Since her diagnosis, she has been a passionate dementia awareness advocate, with the message 'See the person, not the disease'. As a published author, she frequently gives lectures to the general public, fostering a better understanding of dementia.
She serves as Vice Chair of the patient council at the German Center for Neurodegenerative Diseases (DZNE) and is a member of the focus group of the Brain Health Unit at the World Health Organization (WHO). Her goal in these roles is to amplify the voices of people living with dementia and inspire them to share their lived experiences.