In 2008, the Korean government announced a 'war against dementia' and in response, the creation of their first national dementia plan. Since then, they have been leading the way in making dementia a public health priority, with 2021 marking their 4th national dementia plan.
Through innovative thinking, technology, setting up a dementia task force and creating policies and legislation for dementia, South Korea have led the way in bringing dementia to the fore and prioritising all of those who have been affected.
During this 60-minute webinar, we'll discuss details of South Korea's new plan, implementing new technologies for dementia diagnosis and how we can best utilise lessons from the Korean example to implement better policies and practices, both nationally and globally, for people living with dementia and their loved ones.
Join us for an inspiring and thought-provoking discussion where we will hear from the following panelists:
Dr Seong Yoon Kim, Department of Psychiatry, Asan Medical Center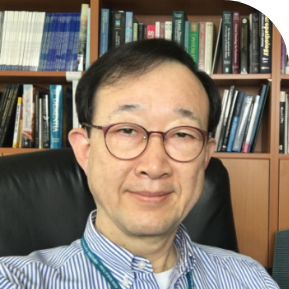 Dr Seong Yoon Kim graduated from Seoul National University in 1985, and has taken psychiatric residency and geropsychiatry research fellowship training in Seoul National University Hospital from 1989 to 1994.
For the last twenty six years, he has been working as a house staff and professor in the Department of Psychiatry of Asan Medical Center and the Medical College, University of Ulsan. Establishing and running a Dementia and Memory Disorder clinic since 1997, he is now working as a Director of Geropsychiatry Section and Memory Disorder Clinic.
Since his research fellowship in McLean Hospital in Boston in early 2000's, he is actively involved in new drug clinical trials, development and validation of neuropsychological tools, establishment of geriatric cohorts for epidemiological and clinical studies, structural and functional neuroimaging, biomarker studies on Alzheimer's disease and other dementias writing more than 150 peer reviewed journal articles and 10 books and chapters.
He is working as an active member of the national dementia cohort research network (CRCD: clinical research centres for dementia) and has been the PI of Korean ADNI (Alzheimer's disease neuroimaging initiative) study during 2004~2015. Recently, he has worked as a visiting scholar to UC Irvine Memory Impairment and Neurological Disorders (UCI MIND), and also serving as the national expert consultant and as the president of Korean Association of Geriatric Psychiatry.
Professor Jong Bin Bae, Associate Professor, Seoul National University Bundang Hospital
Jong Bin Bae is an Associated Professor at Seoul National University Bundang Hospital, in Seoul, South Korea. He holds a medical doctor degree from the Seoul National University. 
In 2019, he served as Vice Director of National Institute of Dementia. His research interests are epidemiology, risk factors and therapeutics of Alzheimer's Disease and as of March 2021, he has published 20 articles on the subject.
Most recently, Jong Bin has conducted the research for the development of Artificial intelligence-based Alzheimer's Disease detection software. Through this research, he was awarded Distinguished Achievement Award in Digital Healthcare Service, awarded by the Minister of Science and ICT, South Korea.
DY Suharya, Asia Pacific Regional Director, Alzheimer's Disease International
DY  Suharya is the Regional Director of the Asia Pacific regional office for ADI. DY works to foster collaboration among members, strengthening their capabilities and reaching out to non-member countries. She is also Founder of Alzheimer Indonesia, an NGO that works toward greater Dementia Alzheimer awareness and risk reduction in Indonesia.
DY holds a Master of Public Health (MPH) from Curtin University Perth, Australia, a Bachelor of Arts in Communication from Ohio State University, USA and a Diploma in English Literature from the University of Indonesia.
DY has more than 20 years of experience in public health, public private partnerships and communication, in the past, DY has worked as a Health Communication Consultant with the World Bank, WHO and UNICEF. DY's mother was diagnosed with vascular dementia in 2009 and has been her source of inspiration in improving the quality life of people with dementia, caregivers and inter-generations since 2013. Her mother passed away in April 2017 but her legacy continues.