Our latest blog is from Davos Alzheimer's Collaborative (DAC) Co-chairs, Arnaud Bernaert, Head of Global Health and Healthcare of the World Economic Forum) and George Vradenburg, Convener of the Global CEO Initiative on Alzheimer's Disease.
This update provides an overview of DAC's work and priorities and alongside the World Health Organization's (WHO) Global action plan on dementia, the authors draw our attention to the "need to build global platforms and networks so that the hard work of Alzheimer's associations, researchers, and innovators in every country benefit those in every other…because we can only solve this global challenge if we marshal the world's full knowledge and resources".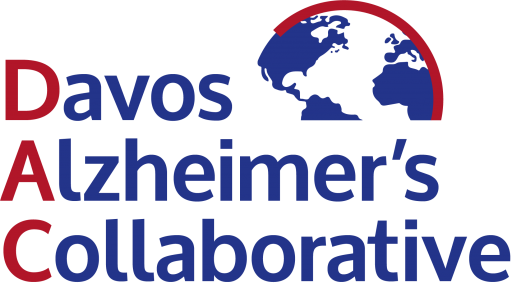 Our world urgently needs a global preparedness plan for dementia to work alongside the WHO's Global action plan on dementia 2017-2025. Advocates, experts, policymakers and business leaders agree this one of the foremost health and economic challenges of our time. Yet we are still not connecting all of the expertise, data, and insights from across the globe, especially from the low- and middle-income countries (LMICs) that are home to over two-thirds of people with dementia – a figure that will rise in the decades ahead.
To meet the full scale and speed of the emerging dementia pandemic, we need to link, scale, or create responses across every nation and sector. We need to include people in LMICs in research and clinical trials, unlocking new insights about the disease. We need to pick up the pace of innovation and ensure that new solutions are effective and accessible to all.
We need to build global platforms and networks so that the hard work of Alzheimer's associations, researchers, and innovators in every country benefit those in every other. Because we can only solve this global challenge if we marshal the world's full knowledge and resources.
The Mission of the Davos Alzheimer's Collaborative
We created DAC to drive progress towards these goals. Initiated in Davos, Switzerland, during the World Economi Forum's Annual Meeting in 2020, DAC is a global pre-competitive alliance incubated by the World Economic Forum (WEF) and the Global CEO Initiative on Alzheimer's (CEOi). It is modelled on other successful global health partnerships, such as GAVI and CEPI.
DAC is building a broad coalition of partners – private companies, global NGOs, governments, and leading academc institutions – to accelerate Alzheimer's innovation. This includes experts and organizations in countries often left out of such efforts – a wellspring of new knowledge and ideas to energize our collective response to dementia.
DAC is focused on three specific, inter-linked and ambitious projects:
Global Cohort Development
In Alzheimer's research, approximately 90% of genomic data comes from people of Western European origin, even though this group accounts for just 10% of the global population. This imbalance prevents us from understanding the complexities of the disease and moving more quickly towards better treatment approaches.
To address this challenge, DAC is partnering with cohorts around the world to build a global cohort with high-quality, detailed data on a diverse population. This will link local discovery infrastructures in high-, middle-, and low-income countries through a standardized data system, enabling researchers to study therapeutic targets and associated biomarkers across the world.
Already, this effort has engaged cohorts representing 21 million patients on 6 continents and includes approximately 125,000 individual life years.
Global Clinical Trials Support Platform
Alzheimer's clinical trials are currently long, expensive, and difficult.  As a result, treatments are slow to make it to the pharmacy.   That's why DAC is creating a global standing clinical trials support platform. The platform will increase connectedness, coordination, and efficiency in trial design and operations among global clinical trial sponsors. This will reduce the time and cost needed for clinical trials—enhancing the ability of lower-resourced countries to conduct them.
Healthcare System Preparedness
Recent scientific advances in dementia are moving into the clinic slowly or in an uneven way. As a result, many health systems, especially those in LMICs, are operating years or decades behind current leading-edge practices. This prevents people from receiving early, accurate detection, diagnosis, and treatment, as well as clinical trial opportunities. Eventually, it could affect the accessibility of new treatments.
DAC is cultivating health system pilots to diagnose Alzheimer's in the 20+ year window before Alzheimer's symptoms emerge. To reach this goal, the pilots will explore common challenges for health systems, identify local solutions, and share best practices globally, including with global convenings of health system leaders.
The Path Ahead
DAC is in the foundational stage of a six-year strategy to drive progress on these three goals. We are excited about several partnerships we are establishing to support and bolster our ongoing efforts and to reach communities across low, middle and high income countries alike. By joining efforts, we, with our partners, will coordinate research, create momentum and engage governments in the fight against dementia.
But our work is just beginning. DAC needs more voices from around the world and more partners to collaborate on this ground-breaking effort to change the course of the global dementia crisis. I hope that you will consider joining us to achieve this shared goal.