The webinar examines findings of the recent report by the Lancet Commission on Dementia prevention, intervention, and care and considered the wider context of discourse surrounding dementia risk reduction, NCDs, air pollution, as well as the lived experience of dementia during the pandemic.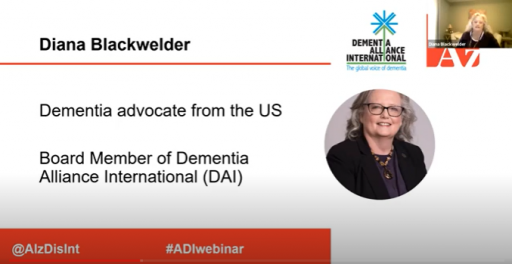 A strong theme coming through the webinar is the implications of the ongoing COVID-19 pandemic on people living with non-communicable diseases (NCDs) like dementia, but also the likely increase in the number of people living with NCDs both as a result of contracting COVID-19 and the disruption to essential services such as screening. Some of the dementia risk factors outlined by the Lancet Commission – namely depression, lack of social interaction and physical inactivity – are also exacerbated by the pandemic. A clear call to action from the session is to advocate to governments to more readily acknowledge the NCD pandemic that is so intertwined with the current global crisis.
Diana Blackwelder, Board member of Dementia Alliance International (DAI) presented an important view around the potentially "blaming" narrative that risk reduction activities bring:
My doctor encouraged me to do many of the risk reduction activities outlined in the paper, and I had been doing many of these things for years. When I was diagnosed with Alzheimer's, I wondered if I was in some way to blame.
However, she ended her speech by saying she has had some level of success in slowing the disabilities caused by dementia through risk reduction activities, encouraging others with a diagnosis of dementia to adopt whichever risk reduction activities they enjoy. A clear conclusion to draw from the session is that individual actions to reduce the risk of dementia are not sustainable, and structural interventions and formal policies are needed to make a difference.